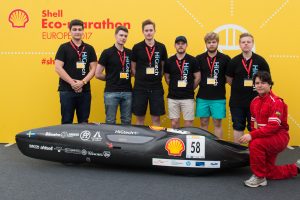 Continuing on from yesterday where we achieved a decent result of 901 km/liter, the goal today was to improve our result today.
We managed to head out to the track early and successfully completed a race which improved our result to 1127 km/liter.
The result was an achievement we were very pleased with but we had time to do one final race, so we tuned the engine so that it would be even more effective but it also developed more power so on the final race the crankshaft failed on the 2:nd lap.
We're now packing our garage and will be heading home tomorrow with a result we're proud of.
The leaderboards:
http://www.shell.com/energy-and-innovation/shell-ecomarathon/europe/live-results.html#iframe=L2V1cm9wZS8=